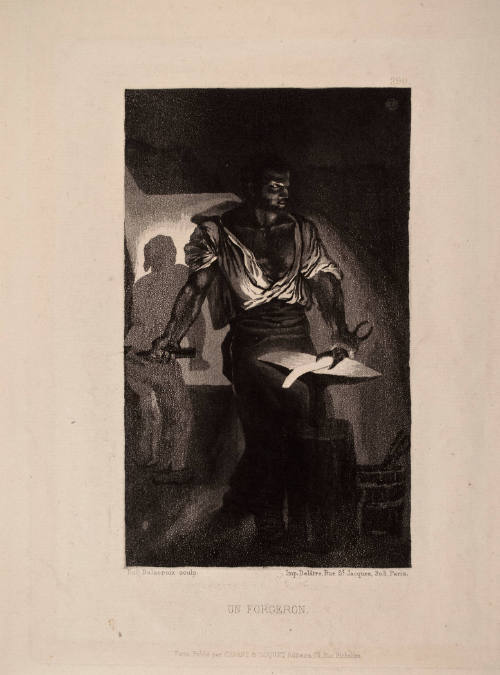 A Blacksmith (Un Forgeron)
Medium:
Aquatint on Arches laid paper
Dimensions:
Sheet (irregular, max.): 17-15/16 x 12-5/8 in. (45.6 x 32.1 cm)
Plate: 9 x 6-3/8 in. (22.9 x 16.2 cm)
Image: 6-5/16 x 3-3/4 in. (16 x 9.5 cm)
Mat II
Credit Line:
Purchase, The Paul and Miriam Kirkley Fund for Acquisitions
Classification(s):
Western
Classification(s):
European
Label Text
The clang of the forge almost rings out into the room. In this print the artist Eugène Delacroix, who worked in many different media, glorifies the art of workmanship. The flash of the blacksmith's eyes reflects the intensity of light and shadow coming from the forge. To achieve this dynamic contrast of light and dark (known as chiaroscuro) and dramatize the blacksmith's work, Delacroix exploits the technique of aquatint. He produced this work in the Romantic style, emphasizing passion and inspiration—which suggests that the brilliance in the print is both literal and metaphorical.