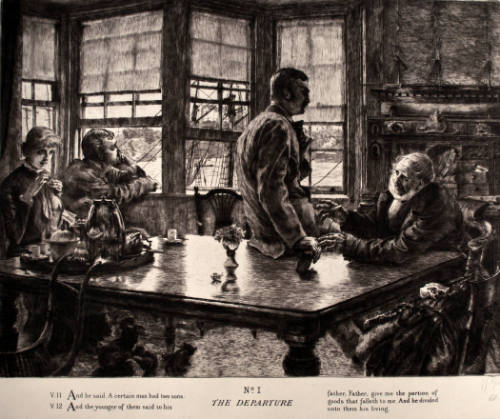 The Departure
Medium:
Etching on Van Gelder laid paper
Dimensions:
Image: 12 3/8 x 14 5/8 in. (31.4 x 37.1 cm)
Sheet: 19 5/8 x 24 1/8 in. (49.8 x 61.3 cm)
Mat III
Credit Line:
Purchase, The Paul and Miriam Kirkley Fund for Acquisitions
Object number:
2011.109.2
Classification(s):
Western
Classification(s):
European
Label Text
The biblical story of the Prodigal Son (or Lost Son) is one of Christ's parables appearing in the Gospel of Luke, in which the younger of two sons, having asked his father for his share of the estate, travels to a distant land and wastes his whole inheritance in riotous living. When the destitute son returns, his father nonetheless greets him with welcome and forgiveness. As a moralizing tale of loss and redemption, the Prodigal Son greatly appealed to the Victorians. This suite of etchings reproduces Tissot's series of paintings on the same theme, which won wide public acclaim and were considered the highlight of his one-man show at London's Dudley Gallery in May 1882. Tissot clothed the story of the Prodigal Son in modern-day garb and included his companion Kathleen Newton in three of the four scenes.