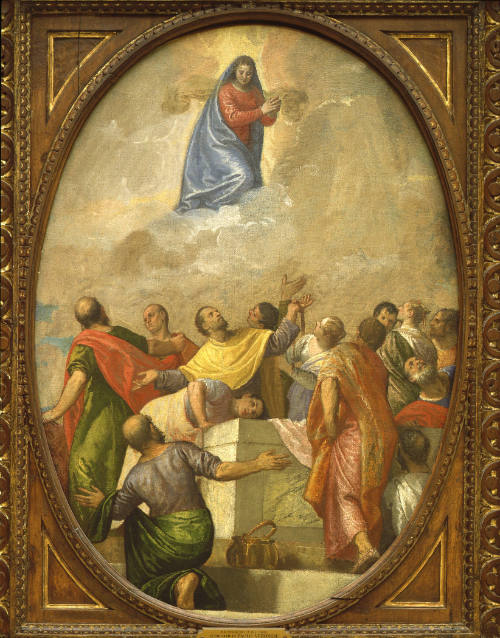 The Assumption of the Virgin
Dimensions:
Oval: 31 1/8 x 22 in. (79 x 55.9 cm)
Framed: 37 3/4 × 28 15/16 in. (95.9 × 73.5 cm)
Credit Line:
Gift of the Samuel H. Kress Foundation
Classification(s):
Western
Classification(s):
European
Label Text
Paolo Veronese's painting places the Virgin Mary in close proximity to her faithful instead of accompanied by angels, as in Bernardino Fungai's version of the scene in Madonna in a Mandorla Surrounded by Angels (Accession no. 1994.1). The absence of gilding and other decorative elements in Veronese's painting also reflect the Council of Trent's decree that art should inspire salutary devotion and not object veneration. Despite the fact that the Virgin floats in the sky without the support of wings, the length of animated fabric stretched out from behind her shoulders alludes to flight. Posed in prayer as an example of conduct to the viewers below to cultivate their own piety, Veronese's Madonna addresses the viewers as a figure of human virtue and not of divinity.