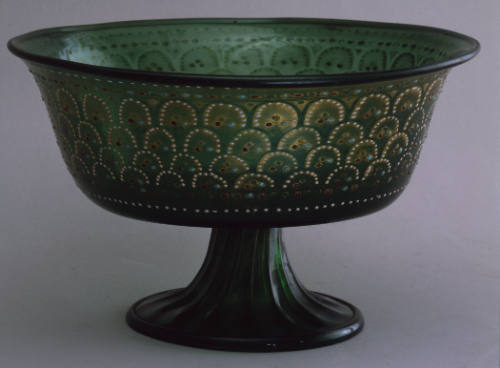 Footed Bowl
Medium:
Enameled and gilded blown green glass
Dimensions:
Height: 5 15/16 in. (15.1 cm)
Diameter: 9-15/16 in. (25.2 cm)
Credit Line:
Gift of the Samuel H. Kress Foundation
Classification(s):
Western
Classification(s):
European
Label Text
The enameled floral pattern that dots the exterior of this Murano glass bowl was a popular motif in Renaissance decorative arts. The foliate forms on the bowl, decorative patterns reminiscent of petals or leaves, are consistent with the imagery of the Renaissance 'grotesque', which derived from the fanciful designs that decorated the antique walls of newly unearthed Roman villas. Artists would visit ancient ruins and incorporate these rediscovered classical designs into their contemporary decorations. They drew motifs of fantastic beasts, candelabra, or nature-inspired designs as seen here. The abstracted geometric aspects of the pattern on this bowl meanwhile, allude to the 'Moresque' designs that were popular in Renaissance decorative arts. These intricate geometrical patterns stemmed from Islamic influences: from the carpets of Turkey or the tiled mosaics of Morocco.